As a dual citizen of the US & UK Paul was raised and educated In Glasgow, Scotland. He traveled extensively as a professional musician before firmly settling in New York where it all started for him. He loves life in the city and gained invaluable knowledge of the Brooklyn's contrasting buildings and neighborhoods with his previous job which involved packaging and transporting fine artworks and antiques to and from homes in Brooklyn and Manhattan.
Paul has had previous real estate experience in the UK, however whilst touring the US and playing many venues around the city, he learned that many musicians and artistic friends were also licensed real estate professionals. It was through their encouragement and his extensive knowledge of New York that he chose to become a realtor.
Paul has gained much experience and many friends from his travels and interacting with people comes naturally to him. His professional approach, solid values, and warm and laid back personality are at service to you.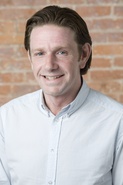 Paul Crolla
mobile: (646) 481-6329